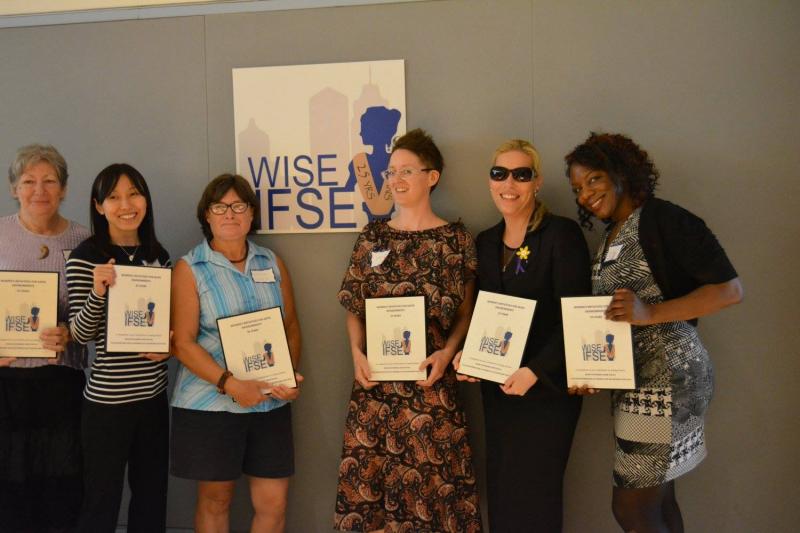 Women's Initiatives for Safer Environments provides services in the City of Ottawa promoting women's safety and working to prevent and end violence against women.
We carry out our work with a small staff, community supporters and a volunteer Board of Directors. We have been working in the Ottawa area for over 20 years.
We are funded by the City of Ottawa. Our services are essentially free to the community, however, an honorarium is always welcome to assist us in our work. As a registered charity, WISE can issue official income tax receipts for donations over $10.00. If you need a Community Safety Audit or a Personal Safety Workshop, it's as easy as calling our office.
We look forward to working with you to improve safety in our City.
WISE Mission
Women's Initiatives for Safer Environments is a community based bilingual organization established in 1992. We work directly with individuals, diverse communities, and local government agencies, to create safer physical and social environments in our neighbourhoods, parks, workplaces, recreational pathways, and schools. We believe that if we make the community safer for women and other vulnerable groups, it will be safer for everyone!
WISE Mandate
To act as a catalyst to foster the creation and sustainability of safe social and physical environments. To organize and conduct public safety audits from a feminist perspective, including the perspective of the full diversity of women and other vulnerable people in society. A safety audit includes attending at a site; assessing safety issues; creating an action plan to address deficiencies and then follow up with stakeholders to monitor and encourage implementation of recommendations. We work to accomplish this mission by working with local government, communities, agencies and those seeking to create safer environments.
WISE Principles
We believe that violence against women is linked to women's inequality. Solutions to violence against women must be based in women's experience. We will work to make our organization and services completely bilingual. We recognize and respect the diversity of women's experiences, and will work to make our organization and services reflect this diversity. All of our work is developed in consultation with the community. We support other women's and anti-violence organizations. We will not duplicate the work of any other organization.
Want to know how you can help WISE?
There are a number of ways you can contribute to the work to enhance safety for women in Ottawa and help us improve safety for women and vulnerable persons:
Become a volunteer: visit our volunteer page and see all the different ways that you can get involved

Become a board member: download the application form

Book a workshop or safety audit: Call us or click on this link and book a workshop or a safety audit for your group, neighbourhood, or workplace.

Donate – a number of ways to support WISE with a financial donation: and receive an income tax receipt for donations of $10.00 or more or by request.
2018-19 Annual Report, Strategic Plan and AGM
Download the abridged version of the 2019-2020 Annual Report.
Download the abridged Strategic Plan for 2017.